I'm using Delphi XE-5 for development and they are contradictory.
I think that person who is responsible for whole product is truly visionary and he actually saved future of whole product.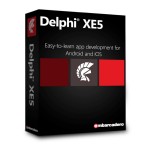 The fact that you can by one code develop under Windows (32 or 64bit), Mac, Android and iOS is just amazing.
And it's really working.
Well the Android app take long time until it starts because the app is not a Java but it's a native application. Benefit is that any component will work there. It's really great.
But there are also bad things. There are some decisions that was made and that makes me crazy.